CondonaZIHón de Pagos
The entire Autopista del Sol to Acapulco will NOT be charging any tolls for the indefinite future. A great time to drive to Mexico City, Taxco, Tepoztlán, Cuernavaca or Puebla!
Residents of Acapulco, Coyuca de Benítez and other affected areas also won't have to pay any taxes until at least February. Stores are opening and selling goods at reduced prices, but of course, there will always be folks who drive there from other places to take advantage of the discounts intended for victims of Otis. But progress is being made, and the Tianguis Turístico 2023 is still scheduled to be held in April in Acapulco, hoping that enough hotels can reopen by then, a gargantuan task.
I still don't see any rain in our local forecast. A 24-to-50% chance tomorrow according to some forecasts, and that's pretty much it. Been having to water our plants since September. I'm surprised the hills are still green. But the constant warm temps make bathing with ambient temp water a pleasure.
I'm so glad the USA is back on Standard Time so that TV programs are once again back to their normal 1-hour difference instead of 2.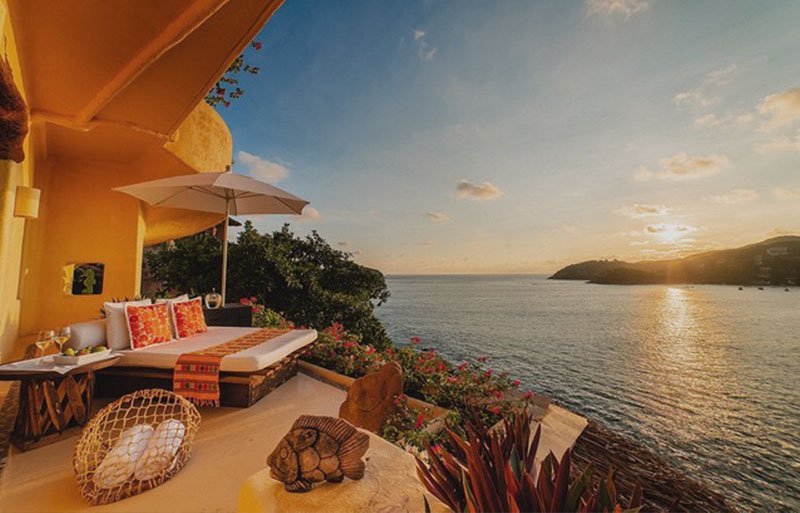 Tentaciones & Espuma Hotels & Restaurants are exquisitely luxurious bed and breakfast boutique hotels overlooking Zihuatanejo Bay with only 4 suites in one and 3 in the other, gourmet restaurants and a unique pool bar lounge offering a breathtaking view of Zihuatanejo Bay and its beaches. Lots of attention to detail went into the construction of both places, which still capture the essence of old Zihuatanejo.
Guide to Hotels in Zihuatanejo, Playa Larga, Playa Blanca, Barra de Potosí & Bahías de Papanoa
¡Cuidemos nuestro patrimonio!
#NoQueremosMuelleParaCruceros
#NoQueremosBlueFlagEnLasPlayas
#PreservemosPlayaManzanillo
Unos doraditos en venta por parte de unos pescadores en Playa Principal de Zihuatanejo. Yo prefiero el mío encebollado.

---
CondonaZIHón de Pagos

- ZihuaRob, 2023-11-06, 18:41