ViZIHblemente Felices
The poor folks who live near the east side of the museum woke up to EXTREMELY LOUD workout music at 7:00 am this Saturday morning that lasted a couple of hours. The city government apparently issues permits for this kind of thing. They still just don't get the whole RESTFUL vacation destination thing, and noise pollution still appears to be an alien concept. #PobrePueblo #MerecemosMejor
A few tourists showed up for this weekend, but barely enough to notice. A reminder why we call it septihambre. But they were all smiles and apparently glad to be here. We're always glad to welcome them.
Saw a few more turtle tracks on Playa Principal this morning. Still not sure who is retrieving eggs from the ones obviously dug up. Hopefully los Marinos.
The local bay temp remains over 32°C. No cool ocean breezes for a while. While heavy rains are predicted for Guerrero this Saturday, we haven't had any here yet (toca madera). For this Sunday intermittent rain is also forecast locally. I think it was a beautiful day today, but it's been on the warm side, around 32° or 33°C with just a light breeze here and there. No hot water necessary in the shower, but depending how high you run your bedroom fan, just before sunrise you might think about pulling a bedsheet over you.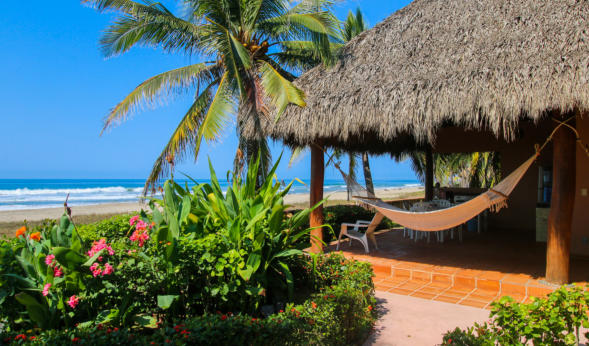 Paradise may have once been lost, but when you arrive at this lodging you'll know you've truly found it. Casa Escondida offers a 2-bedroom home, a 2-bedroom apartment, and two 1-bedroom bungalows all designed in local tropical styles. This incredible property is located on Troncones Beach a short walk from the village. Features a pool, ceiling fans and hammocks on the porches. Rent the entire property or in parts.
Luxury Vacation Rentals in Troncones
¡Cuidemos nuestro patrimonio!
#NoQueremosMuelleParaCruceros
#NoQueremosBlueFlagEnLasPlayas
#PreservemosPlayaManzanillo
Playa Principal de Zihuatanejo es un lugar muy popular y escénica, especialmente al anochecer cuando el cielo se pinta con colores y el aire se pone refrescante.