Una Vida SensaZIHonal
The parade this Monday morning for Día de la Revolución was certainly very festive, but loooooooooooong. We felt sorry for all those poor folks in the parade who were delayed by having to give a special performance for the political VIPs so that there were long gaps in the parade and an already too-long 3-hour parade took 4½ hours under a relentless sun on an unseasonably hot and humid day. After watching the local parade for so many years, like many of my family, friends and neighbors, I feel that it's a stark reminder how overpopulated we've become. And of course there's a parade of parents and family members who follow their children on both sides of the street, sometimes outnumbering the participants in the parade itself. My wife Lupita jumped into the parade to dance along with a group of marchers in traditional garb. Our favorite part is always the charros with their dancing horses.
Got a little sprinkle sometime Sunday night-Monday morning! First precipitation in about 2 months. Hopefully, more is on the way. We sure need it!
Much of Zihuatanejo was rather rudely awakened around 4 a.m. Monday morning by a "sound check" that lasted for over 15 minutes for the parade's reviewing stand. Even though the stage is over two blocks from our home, it seemed like everything in our home rattled from the booming sub-woofers the city set up in the parking area near the Cancha Municipal. Just another of the too many excesses our city government commits during the simulation of its duties and its continuing disdain for the city's hard-working people, especially the downtown residents who already endure too much noise pollution.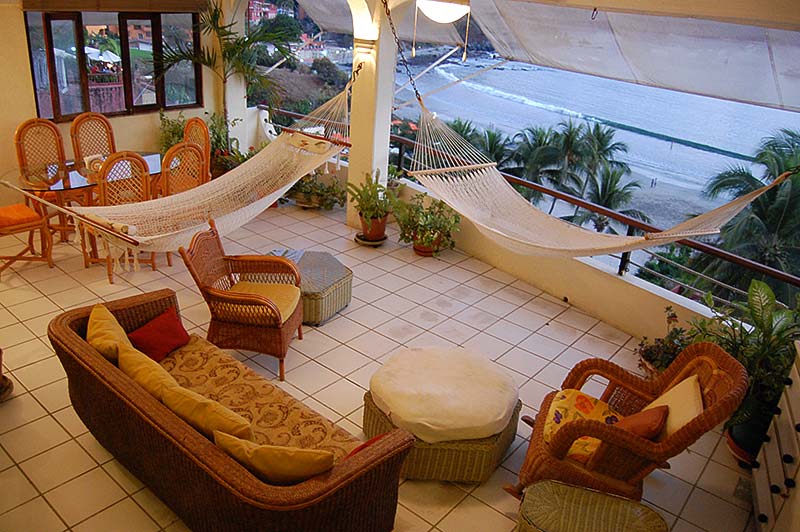 For a truly peaceful vacation in our tropical paradise still within walking distance of shopping and restaurants, I highly recommend Bahia Vista Condos. Two one-bedroom condos overlooking La Madera Beach that can be rented separately or combined into one large suite to sleep up to six. One condo faces the bay, the other overlooks the town and mountains.
Zihuatanejo Vacation Rentals
¡Cuidemos nuestro patrimonio!
#NoQueremosMuelleParaCruceros
#NoQueremosBlueFlagEnLasPlayas
#PreservemosPlayaManzanillo
Un amanecer muy activo en el área de los pescadores en Playa Principal de Zihuatanejo.